George Clooney for President? Probably not, but big George was in D.C. meeting with the Big O. That's Obama, not Oprah. Here are some pics from Clooney's visit to the most famous "White" house in the world. Also, here's an excerpt from FoxNews.com about Clooney's visit:
Hollywood powerhouse George Clooney had some high-level meetings Monday, but not with movie execs.

Clooney met with President Obama and Vice President Biden in separate, one-on-one White House sessions about a topic near and dear to his heart; the humanitarian crisis in Darfur, Sudan.

Fresh from his meeting with Biden, and while reading from his notes, Clooney told reporters at the White House that he asked the administration to appoint a "high-profile full-time envoy" to Darfur, reporting directly to the White House.

The response?

Clooney says they told him they would do just that. However, first they said it was necessary to create a full foreign policy agenda on the troubled region. Clooney said if an envoy position of that stature was created, it would be a huge policy step.

He said the White House made clear to him, and wanted him to share the news, that the situation in Darfur is high on the administration's agenda. He says they assured him that Darfur is "one of a small, handful of foreign policy reviews being undertaken at the senior-most level" which is something Clooney desperately wants.

To continue reading this article, go to
this page
on FoxNews.com.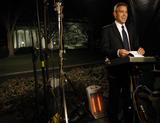 Article Source:
FoxNews.com