Personally, a few tattoo's on a woman are okay, but I'm not a huge fan of numerous body tattoos, but that's just me. However, if you're into them, then you'll probably love these photos of Peaches Geldof modeling lingerie.



More photos after the jump.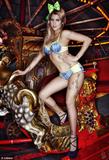 P.S. If you're wondering what she looks like under the lingerie, you're welcome to check it out over at Staralicious (NSFW of course, so be careful if you're working in your cube...)

Follow us on Twitter!