A lot of attention was paid to Lady Gaga's attire at the 2010 Grammy awards this past Sunday, but it's important to remember, THIS is how the lady looks on any given night. Yikes! Her Grammy outfits were really a step up rather than down...



More strangeness after the jump.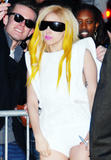 Follow us on Twitter!